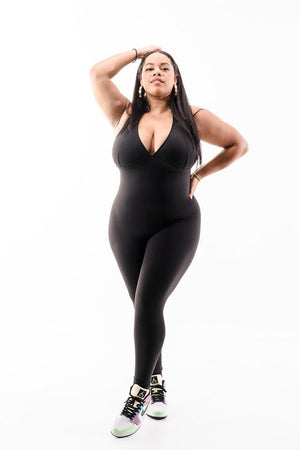 NoT-So-Basic Black
Not-So-Basic Black gives you EXCEPTIONAL 4-way stretch flexibility that breathes and moves with you doing ANYTHING YOU WANT, letting you feel sleek in this second-skin security fabric.
This is a classic! Year-round, we feature this smooth black matte fabric that feels like butter on the skin, holding you in, yet stretching with every move.

It feels like second skin without retaining sweat or odor.

Thanks to the DryMax™ technology it cools the skin as it evaporates sweat eliminating concerns of salty sweat stains.

The lifespan of this amazing blended fabric with wash and dry is at least 260 washes (5 years of weekly washing).

High-quality material retains shape and compressionability for the life of its use.
IDEAL FOR:
yoga

weightlifting

climbing

running

dancing

tumbling

pilates

ocean play

vaulting

aerial silks and hoops

dressing up in office or at night.
Don't see the Fabric you want?
Place your custom order here!
Great jumpsuit
Love this jumpsuit, I use this for my aerial silk classes and it's perfect! I have larger breasts (32DDD) and these have never slipped or moved during class! However it's more of a smush-down that a lift & support for me, so I usually wear a sports bra underneath. Larger breasted ladies, if you want coverage this is great, but you may need a bra under if you want extra support.
Love it!
This is the most comfortable and versatile jumpsuit! It works for the day, gym or evening depending on your schedule.
The fabric is amazing and just looks great on!
Thank you so much for your feedback ❤️
The BEST!
Super comfortable, extremely well made and beautiful. Will be purchasing more in the future!
Thank you so much for your feedback ❤️
the best.
One of the best things about this jumpsuit is you can wear them for any occasion. You'll always look great in one! ❤️🤟
Thank you so much for your feedback ❤️
jusssssttt PERFECT!!
I am a fan of the jumpsuit concept. I love that I can wear the jumpsuit from day to night. The leg length is perfect for me.
Thank you so much for your feedback ❤️